Singing The Blues
THE ONE AND ONLY

ABERCROMBIE OF LA VIE MAGNIFIQUE FOR CLARAMAND

Stop press: At the moment he is the Top Stud dog in cockers in England !!
THE BEGINNING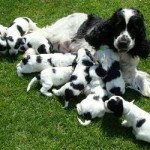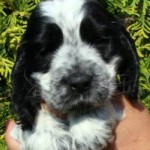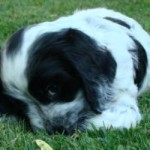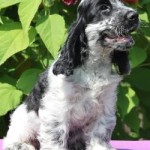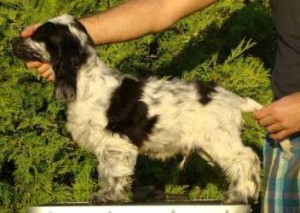 Age 12 weeks
My first time seeing Cromby at his home in Budapest
Having been without any roans for many years I decided it was time to try them again, as I often judge overseas I was able to start my search for just what I wanted, after 2 years I saw the lovely black/white lady Multi Champion: White Maple Cross First Swallow, she was just my type of girl. I waited patiently in the hope that one day she would be mated to a dog that I liked with a pedigree I could work with. Eventually up popped some photo's of a litter she had produced, hardly daring to ask who the sire was I was so happy to be told he was an old favourite of mine called Lynwater Spinning Top, I knew he carried the old traditional lines that I like to work with, As soon as it was possible I was flying out to see the litter. I was welcomed in to Peters home and offered my choice of the puppies, how lucky was I ? … in the lovely sunshine in a beautiful garden out ran what was to become my one and only Cromby !! From a superb litter of top quality puppies I only had eyes for him, when he gave me "That look " it was all over, I picked him up and it was love at first lick..I watched all the litter moving and then standing, I was spoilt for choice, the girls and the boys strutting across the lawn, tails going non stop, but my eyes were only for Cromby, he already had that "I dare you " look in his eyes, he was obviously full of devilment and I knew he was going to be hard work from day one, his joy of life was evident immediately. I came home very happy and he arrived shortly after, from his first day here he has ran me ragged, such a happy lad without a care in the World, I love him for his naughtiness, even though he exhausts me every time I show him, one day he may calm down and even decide to stand still for more than a few seconds, but if not…..What a star he has been since his first show, winning at every level, who could ask for more.
His journey so far !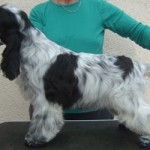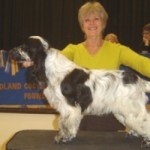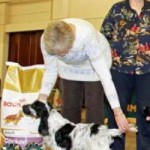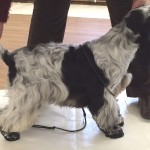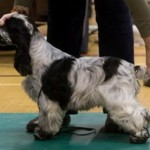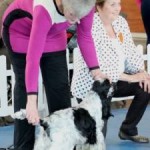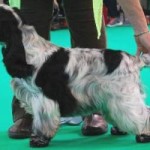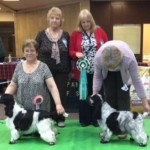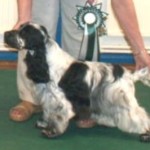 Cromby has won 32 classes during his first 12 months of showing and has won or been placed in every Group he has qualified for at the few Open shows he has attended. I am looking forward to his continued successes. .Now age 2 years he has given me such great pleasure, always a joy, he continues to win and now has sired the superb Ziggy, my first ever orange roan, Cromby will take the back seat to his son, making occasional appearances at club shows.
Cromby continued to have countless more wins and more important, he is still winning many hearts, producing super quality puppies..It goes without saying that Cromby is fully DNA tested for all available tests..