Time For Tears
I hope you enjoy reading about my wonderful boys and girls that have been re-homed after their show career ended, Not all dogs like to be shown, for me they have to enjoy it or they stay home and eventually the right home for them comes along. I take a long time to decide on what type of home life each individual dog needs, It is not always easy as some have more difficult needs than others, an occasional shy girl or boy must go to a more relaxed and quiet household, others can be very boisterous and need a busy life style, maybe with children who have had to wait until they are older to have a dog, you just have to be happy in which home you select, and make sure you do your best for each dog!! Some folk will actually say they think it is cruel re homing your show dogs, they may think that keeping a dog in a kennel for 15 years is being kind, sorry but I think this is just plain selfish and very cruel, there will always be some you can never part with , for what ever reason, that's life, but the lovely people I have trusted with my precious dogs over all these years will tell you on this page how happy they are and how loved by their new owners each dog is, I hope you enjoy reading the stories sent to me by these lovely people.. My thanks to you all for trusting me and caring for my beloved girls and boys…

Suki [now Bonnie]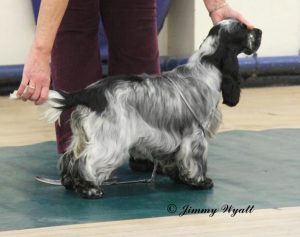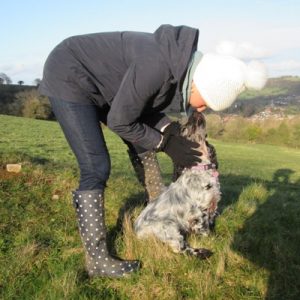 From a winning show girl to a much adored pet, loved by her new owners,Hello Elaine,Just a quick update on little Suki. She has settled in brilliantly and has really taken to Chris and I. She loves to be out in the garden but is still a little bit nervous in the house so she is conquering her fear room by room.She really is a wonderful little dog and we are so pleased to have found her.Here are a couple of pictures and you will see that she has already commandeered the sofa. She answers to her new name brilliantly but seems to be joined at the hip with Chris which makes me very jealous. She is lying on his lap now whilst I am typing this email.It took her a while to settle down properly as she was clearly missing you and she loves meeting other dogs on her walks so I guess she must be missing her kennel mates as well.Hope you're all well and managing to avoid all the germs.
Little Bonnie Bond wanted you to know she's still doing well and sends you a few photographs.
We should have been walking the beaches of Northumberland with her this week but of course it was cancelled. As I have still been on leave this week we've managed to take her a few walks out and picnics here in the Peak District and she now gets very excited and runs to the car every time we open the front door. She really is a little personality.
That hot summer weather was a bit much for her though but she loves going to the groomers for a trim. I am amazed how easy she is to shower and groom, she actually seems to love it. Our previous two Cockers were a very different proposition..Take care
Corry, Chris and Bonnie, xx

RALPH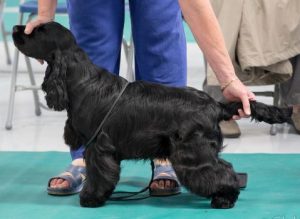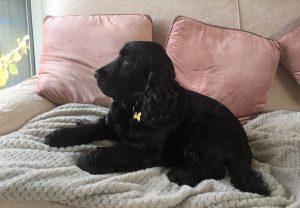 My beautiful boy, from top winner to adored pet, Hi Elaine,
It is approximately 6 weeks since we collected Shadow (Ralph) from you to become our forever companion/pet and we couldn't have found a nicer dog. As you know we lost our previous spaniel unexpectedly at the young age of 2.5yrs and we were originally going to get another puppy but when looking for one we came across your web site & read that you sometimes have older dogs that needed forever homes, hence we now have Shadow (Ralph) who will be 4yrs old next month.
Housetraining an older dog has been a lot easier than a puppy although he had never lived in a house before. He loves going out across the fields for walks & likes meeting other dogs, he has his own doggie friends that he meets up with on a regular basis & he travels in the car with no problems at all. When we first had him loud noises worried him but he is so much better now and we are confident that in time he will get even better.
We are so happy with the way things have turned out with Shadow (Ralph) he has such a gentle temperament & has become very popular in our village. We would certainly recommend one of your older dogs to anyone that is considering one.
With sincere thanks
Jenny & John
SIMON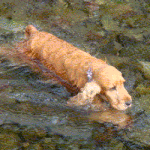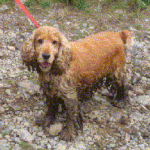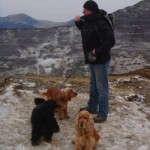 Hi Elaine, Well Simon was a bit in shock when he first arrived, he would sit in the hall looking at us and the three other dogs we had from you before him wondering what on earth was going on !keeping a safe distance until he grew used to things, we did not try to force or rush him , he was left to get used to things in his own time, it was funny went we went for walks, after all Simon had been your top winning Champion, his walking was done for a purpose not just to amble along through woods and around lakes, well he soon got used to everything he faced, he house trained quicker than the other three we had as puppies, and within a short time it was as if he had been born here, as you know we go to the Lake district all the time, he loves it, he swims, climbs, rolls in the snow, anything that takes his fancy, no sign of that Posh Dog, that arrived so long ago now..we adore him and he is so happy with life.. UPDATE: Simon is now well into his Veteran years and still going mountaineering !!
see you soon, Lesley

MOLLY'S STORY..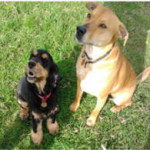 Having rescued dogs for over 20 years we were distraught when our beloved Chloe died, we knew we had to find another gentle girl to take in to our home, Dillon out other rescue dog was still timid even after 4 years, we searched the internet, visited rescue centres all over the place, we had a couple of disasters and became very wary of trying again, we were out walking in our local woods with Dillon and met a couple we often saw, we noticed they had a new little dog and they told us about Elaine and her cockers, as soon as we got home we contacted her, we were very sceptical at first as we could not understand why she would let one of her beautiful dogs go to a new home. After several communications we soon realised Elaine was very cautious about us and asked countless questions before allowing us to visit to see Maike[ we re named her Molly] we went to visit taking Dillon with us, well it was a match made in heaven !, Molly came to live with us, she settled in immediately, never having been in a house she set about investigating every inch of her new home, she soon got used to all the new sounds and what was expected of her, toilet training did take some time but we got there, she and Dillon became inseparable and race along when out and sleep side by side..Elaine has done a wonderful job with her dogs and we feel privileged to own one.. Dave & Elaine Cheetham
ALICE and ISSAC,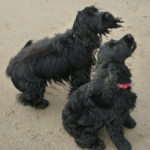 , Dear Elaine, Around a year ago we adopted Alice and Issac, the Hodsons, well since then they have both settled in incredibly well, Issac pretty much owned the place from the second he entered the door !!Alice took longer, however she is in fact the boss just as you predicted .We have come to the conclusion that every girl needs an Issac, he and our daughter are completely inseparable and it's like he never lived in a kennel, he loves long walks, long cuddles and to have 80's rock classics sang to him **Now Alice, she has decided that the sofa is her domain, nothing pleases her more than to sit with her new mum watching Escape to the countryside while chomping on Gravy bones !! Their tails never stop wagging , they love the beach, it was a brilliant day when we decided to take both together in to our lives, thank you..With love from all the Hodsons, Keith, Paula,Charlotte, Alice and Issac.xxxxx
TEDDY Well 2 years old now and we have had him since he was 10 months old,…It has not all been easy going but well worth the effort, so rewarding to see him develop in to a happy go luck, contented lad, very laid back but can stick up for himself when playing with Sam, our daughters boy she also had from you. We are retired and enjoy all the grooming, training, walking and just everything involved with having Teddy, When we first collected him from the kennel he was very timid, any new noise or strange thing startled him ,he was very picky with his food and if people came towards him he did not like that at all and would hide behind our legs, when we took him to training classes he hated it, well after a while we realised that Teddy liked to do things in his own time, and within 6 months he was a different dog, he can do anything he sets his mind to, is very obedient and always wants to please us, he loves the beach and chasing around with Sam, would we do it all again, yes,yes,yes, no question ! Barry and Joan Dawson.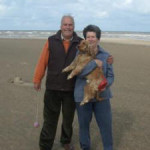 ALL ABOUT ANNIE..
The day had come for us to collect the new member of our family, we were nervous but excited, well talk about love at first sight, she was exactly as we hoped for from the photos we had, she was beautiful!! I'm not sure she felt the same about us, she was after all leaving the home she had always known with total strangers, the journey was not the easiest, she cried for her "mummy", but we gave her lots of cuddles and strokes and finally reached home, surprisingly she went for a good snoop round and found a great place to hide under our bed..it took a very short time for her to become my "shadow! it was as if we were joined by an invisible thread, the house training was much easier than I had expected, she soon realised what was expected of her and went to a spot she considered hers ! she always showed signs when she wanted to go out so we only had a few indoor puddles. slowly she became a confident , happy tail wagging companion who loved to go all over the woods, fields, beaches, she loves it all, her head on my knee watching TV at night, my family always say we did not get a new pet when Annie came , we got a new child, My "Beautiful Annie ", …Hilary and Annie Hook of course..
LEX AND DARCY
When we lost our beautiful Springer our cocker Poppy was bereft, we did not want to bring in a puppy as Poppy was an older dog but she desperately need a companion. I turned to Elaine at "Claramand "and by chance she had an older boy ready for re homing, I was surprised to be honest and a bit suspicious as to why she would want to re home him, but when we spoke to our friend Lynn who had known Elaine for many years she assured us that Elaine was a famous and well respected breeder of cockers who showed them all over, with great success, and that she always preferred to show youngsters so often had older boys or girls available to good homes. Lynn knew that a lovely boy called Lex was soon to be available after a great time in the show ring, she said he would suit our Poppy perfectly, so of we went to visit Elaine and Lex, Well he turned out to be her saviour, he soon had her back to her old self, happy and confident with life again, Lex also loved our cat Megan and they became great buddies ! Lex did require house training as he had always lived in a kennel, but that was quite easy, he was a quick learner, time went on and eventually we lost Poppy.. Lex seemed to cope well just having cat Megan and us , everyone loved him , children cuddled him and his gentle nature endeared him to all who met him, it became apparent that when my parents came to dog sit with their Cavalier Lex missed him when they left, as a result we contacted Elaine for an older girl, she did not have one at that time but did have a young lady called Darcy, and knowing what a good lad Lex was she recommended trying her, she arrived and was immediately taken under Lex's wing, he was a great role model and she became his constant companion, usually hanging of his ears…I can assure you it is worth every second to have a Claramand cocker..
Lex, icon of love, our life saver, companion and role model.. Andie and Angie Brittan…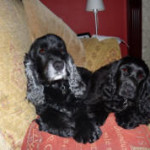 I have countless lovely letters and photos of my re homed girls and boys, but far to many to include, so here are an assortment of photos sent to me with these lovely stories.. If you have re homed one of my dogs and would like your story to appear, please let me know and I will be happy to add it to the top.