Judging
I have always considered judging to be a privilege and over the years I have been invited to many countries around the world to carry out this honour, as an International CC and FCI judge I take this job very seriously. I am very privileged to have been invited to judge all over Europe and beyond countless times, also South Africa, Russia and across Scandinavia. I cannot display all the countries and times I have judged but below are some random photos and comments about a few of them, I hope you enjoy sharing them. Sadly a lot of my photos seem to have disappeared and ones I took in Russia did not develop, but my memories are clear for all my trips abroad and at home. For any serious Cocker Spaniel Judge the ultimate aim during your judging career is to judge the breed at Crufts and to judge at The Cocker Club, our main club in the UK. I have had the honour and privilege of judging at both……
Qualifications
I award CC to 6 Breeds and I am passed by the Kennel Club to Judge the Gundog Group at Championship shows.
I am proud and honoured to have achieved this level, it has been hard work and involved travelling all over this country and abroad, I have enjoyed every second.
Upcoming Appointments;
Championship show and Breed club show invitations that I am looking forward to .
The Cocker Club: July 2023 : Bitches [CC's]
VIENNA : August 2023
GERMANY : November: 2023
DUKERIES Gundog : February 2024
WOOLWHICH, BEXLEY & DIST. : March 2024
CROATIAN COCKER CLUB :WORLD SHOW: April 27th 2024
FINLAND : June 7th 2024
THE ENGLISH COCKER CLUB [ NETHERLANDS] : 30th June 2024
COCKER Breed Clubs : 2025 : Details later
Sadly now days people are being "pushed"(?) to judge far too soon, it takes many years of consistently breeding and exhibiting good quality dogs to be able to assess other peoples dogs correctly and fairly, you have to have integrity, there is no point in giving out red cards and top honours to dogs that are not worthy, when assessing friends dogs you should be extra diligent, remember it is the "normal"(?) folk that make up the bigger part of your entry, you will want them to come again next time, not just your friends!

A good dog must comply as near as possible to the breed standard both in type and conformation, an unsound dog with obvious faults is no use to the breed, and to continue to put these dogs into your breeding program just because of who they belong to is a mistake you may live to regret!!

Now that our dogs are no longer docked you should be extra careful on your selection of stud dogs, remember that a full tail curling over the back looks dreadful and this fault can be very difficult to breed out if you consistently use dogs carrying this trait, a male with a slight lift to his tail is acceptable and is his way of showing he is a "man", but a bitch with a tail flying high in the air and curling over her back is most unattractive and can pass to all her puppies.
Czech Republic – 2017
To return to this beautiful country again was such a pleasure, lovely folk and many great dogs to judge, a 2 day show with me judging the Cockers on day one and the English and Welsh Springers on day 2, it was very hot and we all suffered a bit, but the show was wonderful, set inside a sort of Castle, with a super atmosphere, decisions are often close when judging and this show was no exception, I was especially impressed with the superb presentation of the coats on the Cockers, with very few exceptions that were for me severely over trimmed which gave a false almost clipped look to the dog, but almost all looked beautiful, neat, and natural outlines that complemented the qualities of the dogs to perfection, well done to you all. Here are just a few photos of my main winners, the beautiful black/tan girl also won BIS, on Day One and my Springer was BIS on Day Two, a great result for me and for them.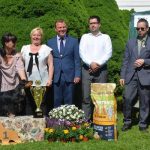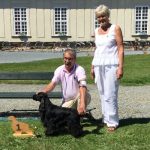 Leeds 2016 – Springer Spaniels
What a fabulous day I had, a great entry and lovely weather, with good size rings it was a pleasure to judge the breed at this level for the first time, I was very happy with my final line up.
Crufts – 2016
Well what a fantastic day I had judging the Bitches at Crufts, a dream come true to be invited to judge at this the most famous show in the World,a huge thank you to all of you who helped to give me a record entry of 254 bitches to assess. It was a privilege and an honour I will remember for ever. A very long and tiring day faced me but after over 37 years of showing, breeding and judging I knew that I could use my knowledge to do the job with integrity and kindness at all times to the girls, Crufts is very stressful to the owners and the dogs, it takes just a few words to put both at their ease..
I found my top winners and Best puppy eventually and was so pleased when my Best Bitch a lovely blue roan girl also won Best of Breed, my Reserve Best Bitch was a super example of a solid cocker, and my Best puppy bitch showed great promise for the future, at the end of the day the puppy had had enough so was pipped for Best puppy in breed by the lovely orange roan boy for Best puppy in breed..
Here are just a few random photos …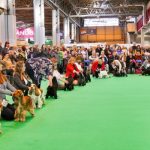 A day never to forget, thank you for all your entries and especially to those who travelled from across Europe with your lovely dogs.
Sweden International Show
A two day show, judged in the pouring rain, almost impossible to get any photos but at the end of the day my Best of Sex and Best of Breed was a delightful black bitch :Occis Ballyliffin, she had such ring presence and easy stylish movement, I had no hesitation in awarding her Best of Breed over a good strong dog. On the second day it was the National Championship show, this time I judged the males. In my final line up I had some super lads, I did decide to make some changes after they had all moved again, this was due to some dogs relaxing and coming into their stride and others just losing the edge they had in the first classes. My ultimate Best Dog was a young blue roan with so much to like, he has a lot to offer the breed and I hope he fulfills his early promise to take many top awards along the way.
Brno
With a huge entry I had a long and exhausting day ahead of me, no time to waste, a fabulous selection of dogs to assess and a great Christmas atmosphere. The venue was superb and so much work put in by the organisers to make sure it was a show to remember, great hosts and a lovely break to enjoy before Christmas.
Home Counties Cocker Spaniel Club – 2012
A lovely welcome for me at this well ran show, some super dogs to asses and loved my main winners for their soundness and type.
Italy
The beautiful city of Padua.
Belgium
Had a great time in Belgium, especially enjoyed the Ice Cream and pancakes !!
Many lovely dogs to judge, here are a few assorted photos'
National Gundog
Spain
A fabulous entry in Spain, the wonderful black boy who stole my heart for Best dog, plus many super boys and girls, and yet once again my BOB went to a stunning Blue roan lady..
Germany
Iserlohn in Germany was a super show, my winners were all of great quality but I could not resist the lovely orange roan lady. We had a great time and visited the Christmas market, it was freezing cold !! We also went to an amazing restaurant for our evening meal..
Sopot in Poland Int.Sh.
What a wonderful place to visit, we were made so welcome, it was a great show ground, and so nice to be out in the sunshine, there were a lot of lovely quality cockers and I was so pleased to see my BOB win the Group and my Springer BOB go 2nd in the Group, our sight seeing was fab !!
Germany
I always love to judge here, you can guarantee many lovely dogs.
My second time in Italy, a huge record entry again, so many lovely dogs ..
Sweden
My first time judging in this beautiful country, I have visited and judged several times since. Everyone so happy, plenty of applause and cheering always with huge entries and so many great cockers !
Another time in Sweden, The club show.
The Cocker Club show, Sweden again, pouring with rain all day this time.
Sweden
The Cocker Club show, but just to visit this time to see friends, also to see my super lad Jason who had recently become a Champion, what a thrill to see him go BIS for the 2nd year running at this show
The famous International Championship show in Germany
A fantastic entry, so many the organisers gave some of my entry to a different judge, this certainly upset a lot of exhibitors, but there are rules as to how many you can judge and my entry was way beyond that ! Some superb cockers and a real pleasure to handle them. Sadly most of my photos went missing.
Serbia
Belfast
My first time awarding CC in this country – Bitches at National Gundog
Lancashire Cocker Club – Dogs
South Africa
What a great experience, one minute pouring with rain, the next roasting hot, lovely hosts and a super time never to be forgotten.
With many more visits around the World I cannot cover them all, but always a fabulous entry and great people to spend time with wherever I go.