My very special boy, left us to join his friends in December 2017, leaving a huge hole in my life but such love it my heart.. sleep easy my faithful lad, you will never be forgotten xxx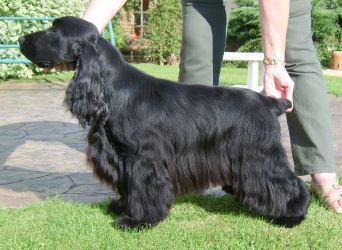 Tommy after his first Best In Show award age 13 months. He is now a Veteran of 11 years and still loves the ladies !!
Lucy, Tommy's mum did not show any signs of being pregnant, as I was going to be judging in Serbia at the time she was due to have her babies I decided to have her scanned just to be sure I could leave her, so we went to the vet, she was duly scanned and the vet said she was definitely not pregnant but was having a "Phantom" pregnancy, so as my friend who Lucy lived with was also going away we could safely leave Lucy to be cared for by her husband who was staying at home, my friend was coming home from her holiday the day Lucy would have had her babies.
I left the day before she was due, at 6pm shortly after I had finished judging my mobile phone rang, something told me that it was to do with Lucy, it was, my friend had been home about an hour when Lucy had suddenly yelled out, and you guessed it, out shot Tommy, my friend went into panic mode and rang me, I said thank God she was home in time and not to worry, ring me back if there were any problems and I would talk her through it, well of course there were no more babies, Tommy "The Phantom" was an only child, spoilt to death by his mum, and by us. He grew into a proper charmer, all the ladies like him and he certainly likes them, his first sons are doing extremely well in the show ring and hopefully more will join them in the future, he is also OptiGen A/Clear, FN Clear with good hips, he sires Gold–Black/Tan -Black, all with his joy of life…
Tommy's son Monty was a triumph at the Euro Spaniel Show, making his debut at this most prestigious show on the continent… Monty soon became an International Champion – Way to go Monty…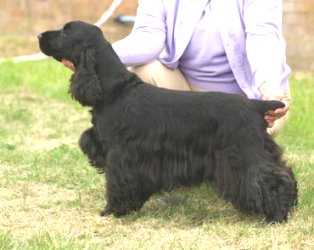 Phantom's sire (above). Claramand Chances Are for Christol JW Sh. CM
Harvey is now a veteran and still showing his socks off…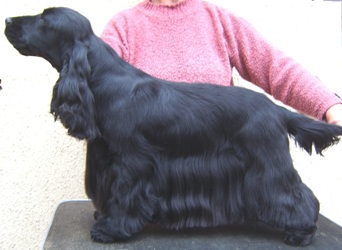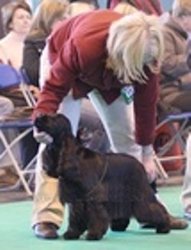 On the left is Nina, my gorgeous multi Best In Show winner & on the right is Lilly with her owner Paula.
Nina had a super time in the ring, gaining a Res. CC & many fans along the way. Lilly is a lovely girl from any angle, winning at all levels including a Res. CC.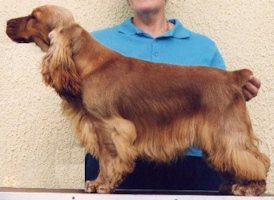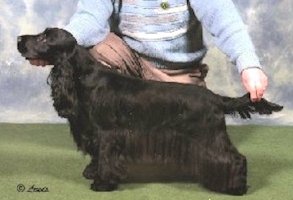 On the left is Gemma, on the right is Pearl & below is Oscar.
Gemma, Pearls & Oscar are three of the many quality children sired by Tommy, winning at all levels, both in this country and abroad, including the famous Champion Claramand Diamond High.
Tommy has the most wonderful nature which he passes on to all his children, I am so very proud of him and wish everyone who has his children good luck for the future…
Tommmy is OptiGen A/Clear – F.N. Normal and has excellent hips.