Cinderella, what's in a name?
I am sure we have all wondered what makes someone choose certain names for their puppies. Having been asked countless times why I gave my extrovert happy puppy the name So Sad Cinderella of Claramand I thought it would make an interesting story to share with you.
One Monday evening the husband of a fellow exhibitor telephoned to ask if I had any idea where his wife might be. He had arrived home to find that she and all the dogs were gone, leaving a note to say that she would not be back.
The weeks passed and the husband kept in touch, he was in a very distressed state not only because of his domestic problems but also because of his concerns for the dogs. I was also worried because one of the bitches had been mated to one of my stud dogs and I knew her time was drawing near.
Soon Solicitors and the Courts became involved and after five weeks I received a message to say that two of the dogs had been located in a shed where they had been shut in for all that time. I had been informed that they were in a very bad way. I then received another call from the Court asking if I could take in a bitch which was due to whelp? Of course I said yes!
When she arrived it broke my heart to see her, she looked barely conscious, she just lay on the seat with her head on one side. Unable to walk or stand I really thought she was going to die. Her huge stomach was heaving with puppies. I carried her into my whelping room, the stench coming from her made me sick. I put her into a warm bath and gently washed her, she did not have any coat at all so wrapping her in a warm towel was enough to dry her. Then into a blanket and under a heat lamp. She was just a pile of skin and bones, she looked horrendous. She was to weak to sit up or take food so I sat on the floor next to the whelping box and syringed small amounts of Lectade down her throat every two hours for twelve hours. She responded well and soon was taking liquidized rice pudding.
After about twenty-four hours she actually started to relax and I could see the tension in her body going. I slept with her head on my lap. On the second day she licked my hand and wagged her tail, I was so pleased I had a good cry. I decided to weigh her before she had her babies, she weighed approximately 18lb. In time she produced a super litter of 12oz puppies. She did not go to the toilet for five days and could not stand unaided for six days. I could write a book about the setbacks and the progress of her and her puppies over the next four months. All the babies turned out to be of super quality and the bitch was eventually found a loving home.
And so to the explanation for "So Sad Cinderella"
A little Black Bitch born on the stroke of midnight, what else could I call her. She was the one for me. Della soon grew into a beautiful baby and I decided to run her on for the Show Ring. And just to prove that fairytales do come true "Della" went on to shine as a star and gained her crown as a Show Champion.
What she gave to the breed!
During her life Della had three litters, in one she gave me the stunning boy Claramand Up Front, he in turn gave me my super Champion Claramand Serious Black, his son is now winning at top level including Crufts 2009, she also gave me Claramand The Man In Black, a well known and winning lad, he in turn sired the World famous Champion Claramand Rock N Roll, he has sired many Champions including the Top winning cocker for the last two years, and in her third litter she produced the mother of the stunning, fabulous Champion Claramand X-Factor what more can you ask of a lady but to go on living in her children and grand children, she will never be forgotten.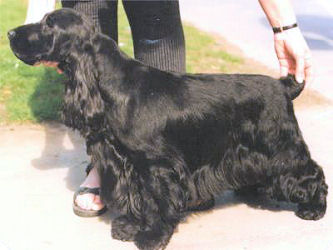 Della said goodbye, her life was my life, we are heartbroken.
14-09-1995——16-03-2009