You have to have very broad shoulders to survive the show scene, there will be a lot more downs than ups, but that is show biz… If you cannot stand to lose when you know the dog in front of yours is of poor quality compared to yours, or the owner just happens to be a friend of the judge or maybe that winner today belongs to the person who is judging tomorrow, then showing is not for you.
There will be many frustrating times when you know you should have been at the front, but that is some thing you have to get used to, most of us have been there… So enjoy it for what it is, keep your thoughts and comments to share with your friends, keep smiling and take the best dog home …
This page is to share the successes of my friends around the World and the happiness when we have a great day at a show.
Around the World
Here we have three dogs with friends in Poland, all are now Champions. On the left is Tremka, the daughter of SH.CH. Claramand X-Factor, centre is is Multi Champion Claramand Once Again, after winning at the World show in Paris, on the right is Multi Champion Claramand In Action as a puppy, after winning at the World Show in Bratislava.
Multi Champion Claramand Master Of Dreams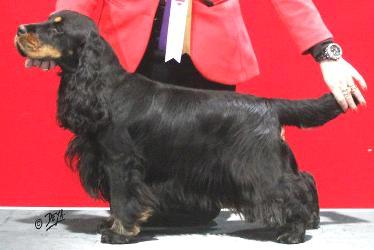 Multi Champion, Top dog in different countries … a dream come true for his owner Yvonne in Germany.