Tanfastic – Black & Tans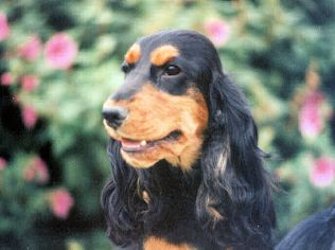 Welcome to my world, introducing the gorgeous Black and Tans:
When my first black & tan was born I fell in love for life with this beautiful colour, and since that time I have consistently bred, shown and won with them.
This is one of the hardest colours to win with as a lot of judges do not like them, can you believe that? The main reason for this is because people keep the dog for it's colour and not for it's quality. A black & tan has to be better than the rest to stand a chance of getting placed, the markings have to be good on the face and the expression has to be extra gentle, a harsh expression looks dreadful on a black & tan, more so than any other colour. The lovely gold flashing on the legs can make the dog look wrong when moving, look past the flashing to the construction of the dog.
I am very proud of my black & tans, all those that I have campaigned have done extremely well at all levels, my very first full Show and Working Champion was a black & tan and he gained his title at 7 years of age for his owners in Finland, I am very proud of him.
My own black & tan boy "Caruso" has proved his worth so many times as a sire of Champions, with his near perfect hips and patella and a super temperament he has left his mark in my kennel for ever. It broke my heart when we had to give him a kind end to his long and healthy life. Sadly only two days after his daughter, Sh.Ch. So Sad Cinderella also said goodbye.
If you want to show a black & tan, make sure it is a good one!